Junior Audition Workshop
Annual Audition Workshop for Junior Year High School Students
Prospective music students that are in their junior year of high school are invited to hone their skills in a "mock" audition for the Adelphi University Department of Music faculty. This new, free workshop is geared towards emerging musicians preparing for their upcoming college auditions.
Students will receive insightful feedback and will learn proper audition etiquette.
Please note that the March 11, 2017 auditions have been canceled due to inclement weather. It will be rescheduled at a later date.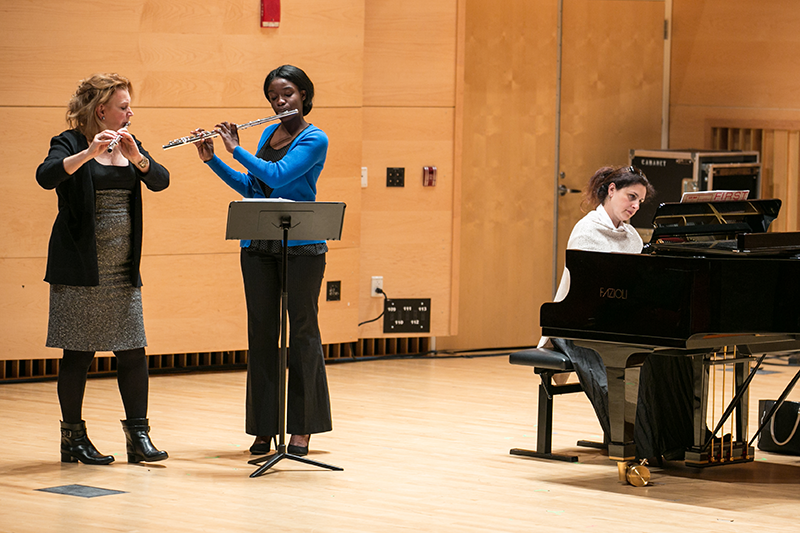 ---
Testimonials
Read about what past participants are saying about the Junior Audition Workshop.
"My wife and I were impressed with the coaching of the professors. Very nurturing, positive and expert-level delivery of feedback. I not only liked observing the feedback, but also how they had the student replay portion of the piece to understand the concepts the professor was trying to get across." "I wish you could bring this to the high schools. It was so unbelievably professional. For anyone thinking of making this their career it was a must. I believe in myself because professionals saw potential in me." "Great preparation for what is expected in an actual audition."  "Now I know what I need to work on for the real college audition." "I really liked the way how I was able to dedicate my whole time to this workshop. Thanks so much for the comments! I also loved the mock audition and the masterclass too." "From each judge, I liked how you were told the good and the bad things. It really helps me to understand what I need to work on mostly, the improvements that have to be made and also the great things I am already doing." "I really liked how the teacher showed an easier way of playing passages. Relaxing the chin, I have never been told that. I think I have learned a lot from the main point, which was all about the sound." 
---
For more information, please contact:
Jacquelyn Anne Stearns
Program and Recruitment Coordinator
Department of Music 
p – 516.237.8649
e – jstearns@adelphi.edu