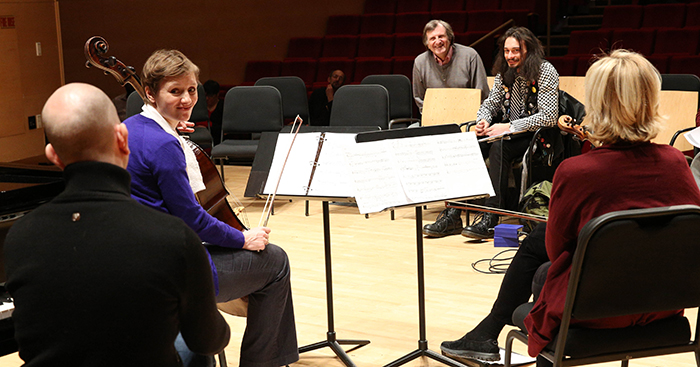 There was a tremor in Philip Lauto's voice as he addressed the members of Trio Solisti. Lauto, a senior in the music program, had been through a couple of composition workshops before as a part of his course work, but that didn't make telling the visiting professionals how to play his piece any easier.
His "Break Through" imagined, he said, a melody being suppressed and finally breaking through in the music. At the outset, delicate piano melodies seemed to be blocked by bold, repeated chords in the lower register. The strings then entered with unexpectedly romantic lines. The short piece was steeped in variety.
Lauto was one of three music majors (all completing concentrations in composition) who heard their pieces played by Trio Solisti, marking a decade as Adelphi University's ensemble-in-residence. A handful of fellow students and a couple of professors joined them in two rows of chairs set up on the Westermann Stage of the Performing Arts Center (AUPAC) Concert Hall for the February 18 session. Understandably apprehensive, Lauto told the musicians he wanted to hear more contrast between the sections.
"Overall, to be honest, I'd like it a little bit slower," he said, "a little more relaxed."
As they prepared to play the piece again, cellist Alexis Pia Gerlach told Lauto he could interrupt them with instructions if he wanted.
"Oh," he said, laughing nervously. "OK."
Lauto pronounced the second run-through "literally perfect" and then the ensemble began instructing him, giving him suggestions on how to better mark dynamics, bowing and intonation in the score to get what he's looking for.
Nerves aside, Lauto was all smiles after the session.
"It's really incredible," he said. "We have the playback [from the composition software] we use but nothing compares to live musicians playing it."
The other two student pieces put some challenges to the trio.
"For You," written by junior Michael S. Gayle, was a jazzy, cinematic piece that called on the pianist to improvise in passages. "It doesn't have to be Herbie Hancock," Gayle said when Trio Solisti member Adam Neiman explained he wasn't that sort of pianist.
"I've seen you guys several times," he added. "I thought of you when I wrote this. Not that this is what you really do, but I thought, 'It would be so dope if they could do this.'"
Daniyil Tchibirev's "Trio" featured lush instrumental passages occasionally interrupted with dense blocks of prerecorded electronic sound. The unusual piece required a little more work but Tchibirev was happy with the results.
"I think it was true to what I wrote," said the junior on his first workshop experience. "It was a little surreal to hear it with real instruments rather than a computer."
Gayle concurred.
"It's refreshing," he said. "When we were composing, it's like the sonogram. But this is the birth. You're actually seeing life."
About Adelphi: A modern metropolitan university with a personalized approach to higher learning.
Adelphi University is a highly awarded, nationally ranked, powerfully connected doctoral research university offering exceptional liberal arts and sciences programs and professional training with particular strength in its Core Four—Arts and Humanities, STEM and Social Sciences, the Business and Education Professions, and Health and Wellness. Adelphi is dedicated to transforming students' lives through small classes, hands-on learning and innovative ways to support student success.
Founded in Brooklyn in 1896, Adelphi is Long Island's oldest private coeducational university. Today Adelphi serves nearly 8,000 students at its beautiful main campus in Garden City, New York—just 23 miles from New York City's cultural and internship opportunities—and at dynamic learning hubs in Manhattan, the Hudson Valley and Suffolk County, and online.
More than 100,000 Adelphi graduates have gained the skills to thrive professionally as active, caring citizens, making their mark on the University, their communities and the world.